Finally, a protein bar with clean ingredients that tastes great and supports digestive health.
Better Health Starts in the Gut
You shouldn't have to choose between healthy or tasty when it comes to nutritional snacks.
Our recipe works to keep your gut healthy and your tastebuds happy—without sacrificing your commitment to real ingredients.
Real Food, Healthy Ingredients
Prebiotic Fiber

Chicory Root is our favorite form of inulin, a prebiotic fiber that supports the good bacteria in the microbiome. Chicory root is actually a part of the dandelion family! Luckily, it tastes much better than your average dandelion. You'll get 4-10g of fiber in each Odyssey bar.
Naturally Sweetened

We use organic dates as the main sweetener in Odyssey Bars instead of those bad-for-your-gut sugar alcohols that a lot of other protein bars have.
Superfoods

We use a special blend of superfoods (kale, spinach and sometimes quinoa crisps) in our bars, and your body will thank you for eating them. Plus, we put so many delicious organic ingredients in our bars that your taste buds will have zero idea the superfoods are even there.
Gluten-Free, and more!

Odyssey bars are certified gluten-free, soy-free, non-GMO, and dairy-free*. They contain zero fake ingredients, and did we mention they are delicious?

*Specific flavors only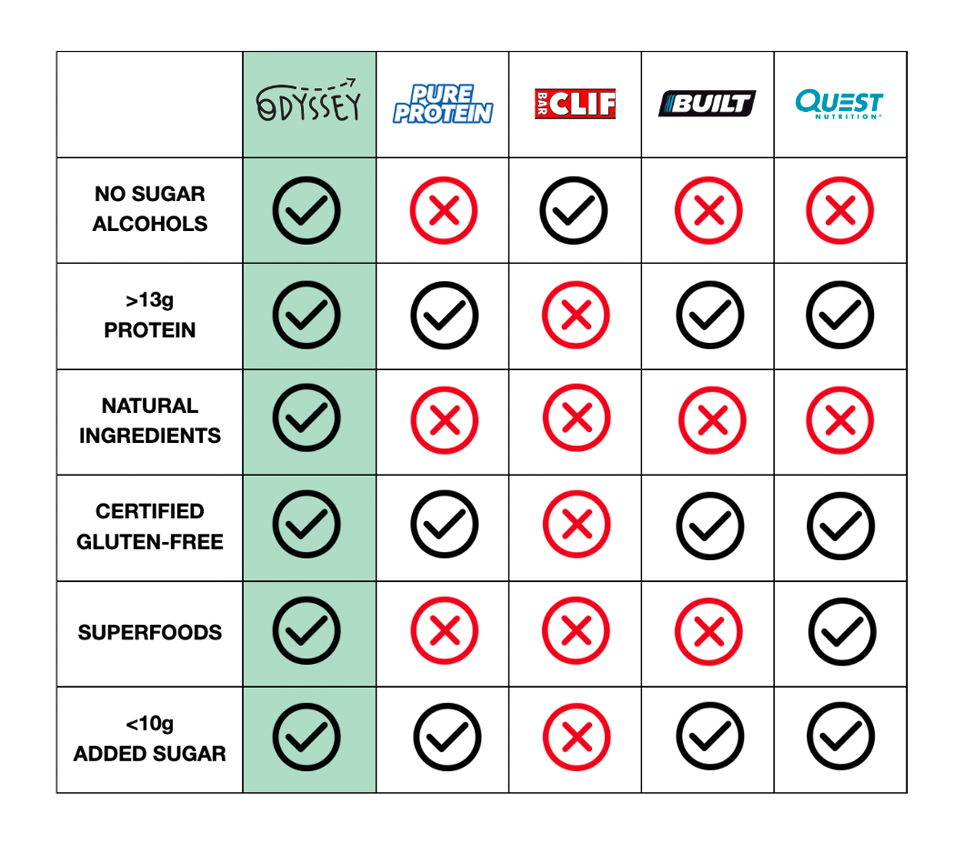 HOW ODYSSEY COMPARES
What makes our bars different? Most protein bars today aren't great for your digestive health, 
cause bloating, and contain processed ingredients. Luckily, we are here to help! ODYSSEY 
supports your digestive health with a little something called prebiotic fiber. Our bars also contain 
all natural sugar and zero sugar alcohols.
TRY NOW
30 Day Risk-Free Guarantee!
If you're not happy with your order, we offer a 30-day money back guarantee.
So if you don't love it, we'll refund your purchase.
TRY FOR 30 DAYS, RISK-FREE
We Know Our Bars Are Amazing, but...
Don't Just Take Our Word For It
I love this protein bar. It has all my favs in one, banana chocolate and peanut butter, I couldn't ask for more. It is filling, delicous, good for you and take the hangry pains away. Best on the market in my opinion!!!
- Gloria C.
The choc-almond bars are bomb!!!! I love that they are plant-based with no artificial sweeteners.
Vicki M.
I love this bar! It is the perfect dark chocolate mint flavor and is low in sugar and high in protein and fiber.
- Jan M.
My whole family loves to eat these protein bars! They are delicious & so healthy. This is what my teen son eats before his workouts or in between back to back baseball games when he needs energy & doesn't have time for a meal. These are perfect! Thank you!
- Laura W.
This is my husbands favorite bar of all time hands down! Over the years we have bought so many different protein bars and this is the favorite! We just bought three boxes so we don't run out! The mocha flavor is front and center and the chocolate and crunch round out the taste perfectly and make it nice and chewy!
- Dana L.